​
Event
Gallery AaMo
Museum Of Bad Art Exhibition
November 22, 2018(Thu) - January 14, 2019(Mon, National Holiday)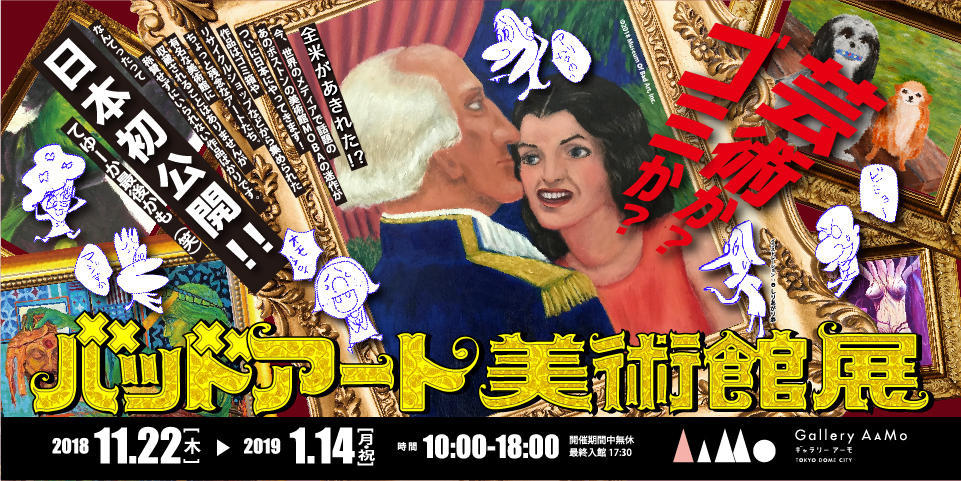 Art too bad to be ignored?
The Museum Of Bad Art (MOBA) is finally coming to Japan! America can't stop talking about this unique art museum in Boston, which has been featured on numerous media outlets throughout the world. It is the mission of MOBA to bring the worst of art to the widest of audiences to be enjoyed and praised. With a vast collection of over 600 pieces, MOBA will be bringing 100 of their most popular artworks to Japan for the first time..... and perhaps the last (lol!) So be sure not to miss this great chance to celebrate art and see what all the talk is about!
Admission Tickets
​

*Ticket sales are available in Japanese.​ ​​ ​
Admission Fee
Walk-up: Adults(high school or older)¥1300​ ​
​ ​Advance: Adults(high school or older)¥1100
​ ​Walk-up/Advance: Children(under junior high school ) ¥200
​

Preschoolers Free (Unaccompanied entry not allowed)

​

Only walk-up tickets will be available after the opening day, 11/22(Thu).
For visitors with disabilities:
Visitors with disabilities can obtain free admission for a single helper with the purchase of an admission ticket for themselves
Exhibition:
Museum Of Bad Art is a museum in Boston which celebrates art that would be displayed and appreciated in no other forum, art too bad to be ignored. The collected "Bad Art" are works in which something has gone wrong in the creative process, however somehow all resulting in a compelling image. In the present exhibition, 100 selected artworks of the museum's collection encompassing more than 800 pieces will be displayed for the first time in Japan.​ ​
We'll invite Mr. Kotobuki Shiriagari as a special cooperator: From the manga and contemporary artists' perspercive, he will introduce the MOBA collection humorously.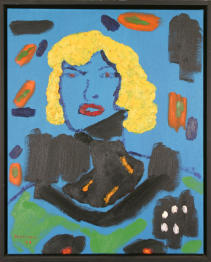 Couldabeen Marilyn Today
Charlie and Sheba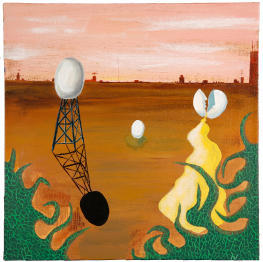 Drilling for Eggs
■ About the Museum Of Bad Art
MOBA was formed in 1994 when Scott Wilson, Boston art dealer, rescued a painting from a trash pile. He planned to discard the painting and sell the frame. But his friend Jerry Reilly fell in love with the painting and hung it in his house. Scott and other friends then began to give Jerry bad art from thrift stores, yard sales, and trash. MOBA was soon exhibiting in the basement of a movie theater as a small museum, building an online presence, attracting international attention. Today, many art that are likely to be "bad art" are donated by people all over the US and around the world, however only a small number of pieces are accepted because criteria is strict. First, it must actually be art. That is, it should be a sincere effort to make an artistic statement. Second, something must have gone wrong in concept or execution. This might be poor technique, problems with execution, unusual themes, or over-the-top imagery. Third, the result must be a work that is interesting and compelling. It should provoke conversation and questions. A boring work does not belong in any museum.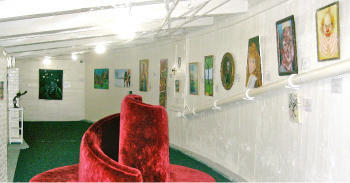 © 2018 Museum Of Bad Art, Inc.
Greeting from Kotobuki Shiriagari
Art is complex, so complex that sometimes you cannot distinguish the bad and the masterpiece. But, the complexity is the thing that makes art more enjoyable. You may have mixed feelings when you see those works: "It's a poor work." or "Well, it touched my heart." Explore the bad art and find your own masterpiece.
Profile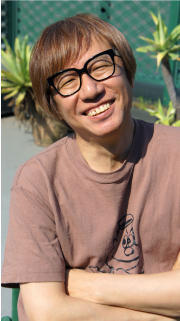 ​
Born in Shizuoka city in 1958.
After graduating from the Department of Graphic Design, Tama Art University in 1981, he started working as a package designer and advertising illustrator for Kirin Brewery Company. In 1985, he published his first book "Erekina-Haru", or 『エレキな春』 . Working mainly with parody, he has been acclaimed as the pioneer who carved out new fields in "gag manga." A full-time artist since 1994, he continues to broaden his scope of interest, producing works from various genres ranging from fantasies to literary style expressions in diverse forms of publications such as satirical four-panel comic strips for newspapers, long-form narrative manga, and even underground manga. In recent years, he has created videos and installation art, expanding even further beyond the realm of manga.
General Information
Schedule
November 22 , 2018 (Thu) - January 14 (Mon), 2019 *Open every day.
Hours
10:00 -18:00 *Last entry at 17:30
Admission Fee
Adults(high school or older): ¥1300​ ​
​ ​【Advance ticket】Adults(high school students or older) ¥1,100
​ ​Walk-up/Advance: Children(under junior high school ) ¥200
*Preschoolers Free (Unaccompanied entry not allowed)
Location
Gallery AaMo (URL)
Supporters
Organizer:Tokyo Dome Co., Ltd.
​

Planning Assisted by: Museum Of Bad Art
​

Special Cooperator: Kotobuki Shiriagari
​

Advertising Designer: Mimiko Akiyama
​

Planning Coordinator: Tamami Kanda​ ​
​

Special Thanks to: Synchronicity, Curiosity Japan
​

Endorsed by: The Yomiuri Shimbun
​