TOKYO DOME CITY WINTER LIGHTS GARDEN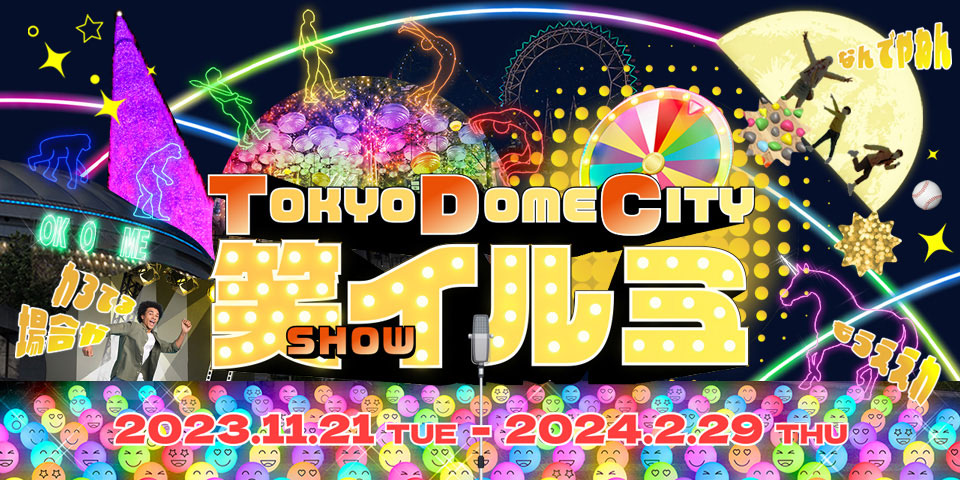 Wednesday, 7th November 2018 - Sunday, 17th February 2019
The fantastic Japanese style illumination, inspired by traditional Japanese crafts, will take place at Tokyo Dome City. "Edo elegance ~Japanese beauty" is the concept of this year's event. We hope you enjoy sophisticated Japanese illumination that embodies the Japanese style of living, and showcases motifs of traditional crafts.
Area Information​ ​
LaQua Area
EDO KIRIKO
Traditional crafts from Tokyo known as "Edo Kiriko" will be on display via an interactive projector, which enables light to manifest into traditional designs. Through the interactive projector, depending on people's movement, the designs of Edo Kiriko transform like a kaleidoscope. In addition, selected genuine Edo Kiriko artwork will also be on display.​ ​​ ​​ ​​ ​
TEMARI​ ​Built-in Interactive System
Temari is a type of dome illumination, 10m high and 12m in diameter. The illumination moves in time with music, and we hope you enjoy the combination of music and illumination.​ ​
MANGEKYO​ ​Built-in Interactive System
Mangekyo manifests as a bright, beautiful, continuous kaleidoscope of light, 140m in length.
What is an interactive system?

"TEMARI" and "MANGEKYO" are equipped with a sensor system, capable of catching people's body movements such as waving or holding hands. Depending on your movement, you can have control over the brightness of the illumination and type of music. It is an an exciting and amusing experience for everyone, and is great for couples, groups of friends, and families.
Attractions Area
ORIGAMI
In "Viking Zone" you will find "KAZAGURUMA", a shining tree 6m high, where light is used to simulate Origami cranes and balloons. The Origami world is rendered using an interactive projector to create this stunning exhibit.​ ​
Crystal Avenue
HANABI
The summer-inspired "Hanabi" motif illumination is 100m long, featuring spectacular Hanabi (or fireworks) and gorgeous floral shapes. With the flick of a switch, the illumination transforms, shooting fireworks into the sky.​ ​​ ​
TAKE AKARI
On the second floor, connecting "Meets Port Area" and "Attractions Area", a beautiful corridor of light has been carved into bamboo columns, stretching 100m long.
MEETS PORT Area
WAGASA
In this exhibition, famous traditional umbrellas from Gifu Prefecture are on display. The umbrellas are specially illuminated to showcase the delicate and precise stitching necessary for their craft.​ ​
Corporations
Anan Light City Development Council
EDO KIRIKO COOPERATIVE ASSOCIATION
CHIKAKEN
SNS
General Information
Schedule
Wednesday, 7th November 2018 - Sunday, 17th February 2019
​ ​Lighting Hours
16:00~24:00

​

*On days with events, opening hours may be extended to 25:00

​

*Wednesday, 7th November 17:00~

Location
Tokyo Dome City areas(URL)