TOKYO DOME CITY WINTER LIGHTS GARDEN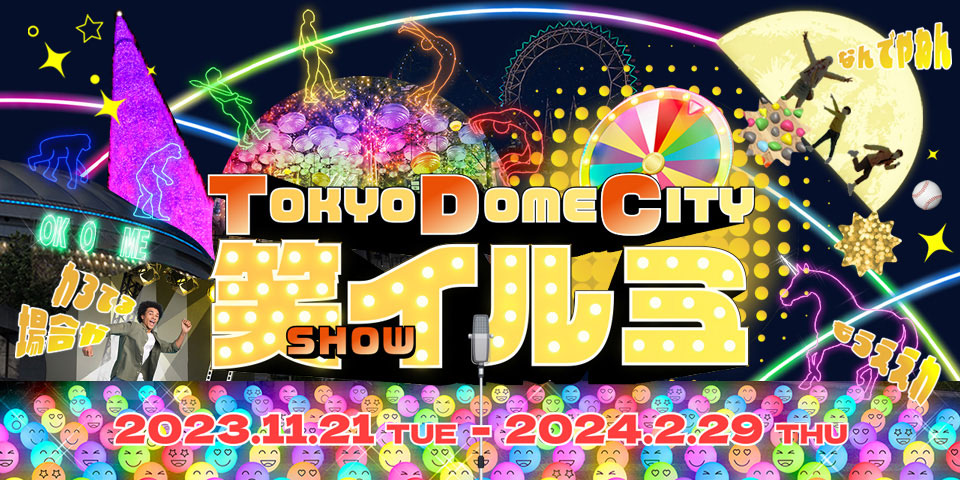 From November 13, 2019 (Wed.) to February 26, 2020 (Wed.)
On our 15th year of Tokyo Dome City Winter Illumination, we will decorate with traditional Japanese styles. Although you can find similar Japanese motifs from last year, come and experience the different structures of the illuminations using cherry blossoms and Mt. Fuji.
Area Information​ ​
LaQua Area
SAKURA
Cherry blossoms often symbolize Japan and most favored by Japanese people, and that's why we have a 6.5m high tree in the LaQua area. They will beautifully bloom in harmony with music played with Japanese instruments.
You may also enjoy the illuminated decorations colored in champagne gold.
Attractions Area
YAGURA
There will be a 6m high yagura (raised platform) decorated with red lanterns. Beat the drum inside the tower, and vivid lights and sound will begin to play.
Crystal Avenue
TANABATA
On the 1st floor of Crystal Avenue, you will find a 100m long lights spreading above your head as the Milky Way. With also shooting stars, colorful paper strips on bamboo branches, and the shimmering lights coming from fireflies and lanterns, they all paint a magical Tanabata (star festival). Enjoy also the music playing together in this area.
ANDON
On the 2nd floor, you can find lanterns lined up for 120 meters, which each one uses different patterns of Japanese paper. Feel the warm lights glowing in the dark.
MEETS PORT Area
Mt. FUJI
Discover Mt. Fuji, a symbol of Japan, brighten up at the MEETS PORT Garden. Enjoy how different impressions are given off by changing lights and colors of Mt. Fuji. Feel free to take pictures as well.
Hi! EVERYVALLEY Area
FUJIDANA
At the Hi! EVERYVALLEY Area, there will be an illuminated wisteria trellis. The wisteria flowers will gently sway back and forth as a way to greet everyone.
SNS
Event Information
| | |
| --- | --- |
| Dates | From November 13, 2019 (Wed.) to February 26, 2020 (Wed.) |
| ​ ​Lighting Hours | 17:00~24:00 |
| Venue | Tokyo Dome City areas(Access) |